Happy Thursday! I hope your thundering Thursday was good! Mine was... a day! I had 4 out today and 1 who got sick (in the cafeteria serving line!)! Um, the stomach bug has arrived at Monsters, Inc!
I wanted to share what we did today!! This is our poinsettia craftivity!! I love this project! These always turn out so cute and they really add some holiday cheer to our hallway! The kids were so excited to see pictures of real poinsettias! There is a great book to go with this craftivity but it's a little difficult for Kinder. The Legend of The Poinsettia is written by Tomie DePaola. We read parts of the book today and discussed the legend of the poinsettia! Then we got crafty! And here is our final product! How cute are these?!
The template is available here:
I am linking up with
Second Grade Sparkles
for a super fun linky party! Link up and show a picture of yourself when you were in the grade you currently teach!! Well, here I am in Kindergarten! How cute am I?!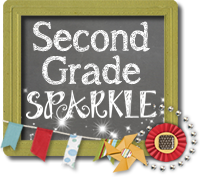 And finally, I have a TOP SECRET PROJECT that will be unveiled tomorrow!!!! Project: Gingerbread is underway at the Kindergarten Smorgasboard